KU Design Week 2016

IDENTITY, INSTALLATION, 2016
WORK DONE AT KU

TEAM MEMBERS
Patrick Blanchard
Lucas Nelson
Promoting interdisciplinary design thinking to KU design students, the Lawrence community, and beyond.


In his bestselling book The Outliers, pop-psychologist Malcolm Gladwell popularized the theory that it takes 10,000 hours of meaningful practice to achieve mastery in a skill.

KU Design Week is an annual series of events aimed at promoting interdisciplinary design thinking at the University of Kansas, the Lawrence community and beyond. The 2016 theme was 10,000 Hours, celebrating the amount of time that designers and problem solvers spend refining their craft on their way to achieving mastery.






To build excitement for the Design Week events, we installed a series of poster walls in the Art + Design and architecture buildings prior to the start date. Each poster features mini design challenges, inspirational quotes from influential design masters or lighthearted design jokes. Neon colors transform the blank, underutilized tack surfaces in the buildings to create environments that are vibrant and energizing.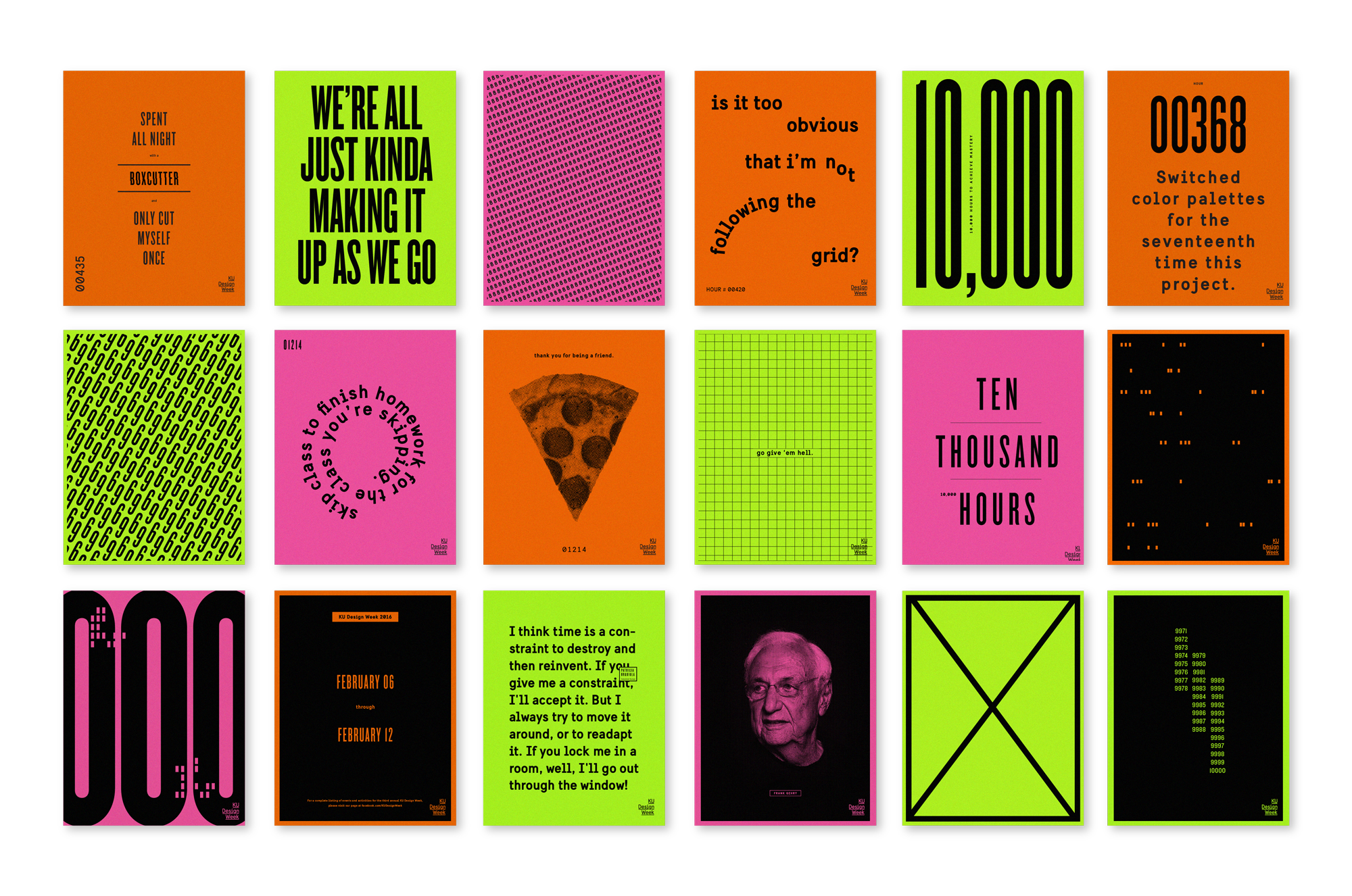 Students were encouraged to take down the posters and put them in personal places to remind themselves to keep racking up hours of practice. Each poster was stapled to the tack wall so they could be removed individually.
Raffle tickets were handed out at each event for the celebration at the end of the week.
One event was a drop cap battle, where participants designed a number of their choice. The entries were hung up in the building's main gallery space, and people walking by throughout the week could vote for their favorite.